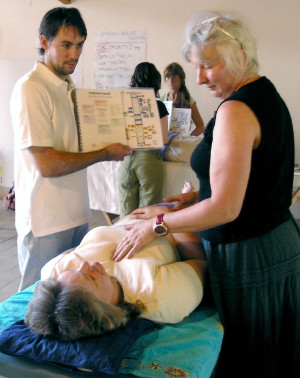 BodyTalk
In 2003, I was introduced to the BodyTalk System.  The timing was perfect.  I had by then acquired so many techniques that my tool box was getting almost too full.  It was challenging to know when to use which technique since many claimed to provide the same results.  In addition, while multiple methods addressed the mind-body connection, the timing of when to pursue that route seemed too vague and subjective.The BodyTalk system provided a unique cataloging program to help organize and expand my modality tool box.  It added numerous additional energy based techniques to address healthcare issues ranging from musculo-skeletal symptoms to infections to belief systems that might be holding one back from healing.* It also helped to guide me through my growing modality repertoire and assist me with choosing the best possible approach to use at any given time, by providing a gentle, simple biofeedback technique.The biofeedback technique, along with the Applied Kinesiology testing, is a way to connect with the patient's Innate knowing of where symptoms originate and what method would be best to restore balance and function.  It enhances the practitioner's own sense of intuition and knowing how to best help the patient restore balance and their own innate ability to heal.In a typical BodyTalk session, the practitioner uses an innovative exploring procedure and the biofeedback technique to guide him/her through the range of possible imbalances in the body-mind complex.  Based on the theory that the imbalances arise from a lack of proper communication and synchronization,  once the areas are identified, hand placement is used for focus to the involved areas and communication is stimulated through a sequence of tapping first on the head and then on the heart.  The tapping on the head is thought to alert the body-mind to the problem and stimulate rebalancing, while the tapping on the heart is done to help store the change.
BodyTalk Access
After learning the BodyTalk System in 2003, I found that not only was it useful for my patients, but also for my family.  The fast-aid technique worked wonders on sprains and bruises my daughters would get in sports and the BodyChemistry technique was amazing for taking care of viruses and reactions to toxins and allergens.  Antibiotics were rarely used in our family after BodyTalk was a part of our health care plan.

I realized how valuable some of the basic BodyTalk techniques would be for any household.  But the full 4 day class was costly both in money and time.  Not many can afford this investment.  Luckily I was not the only one who realized this.  In 2005, the International BodyTalk Association developed a 6 hour seminar called BodyTalk Access.

In this class, we teach 5 essential self care techniques which can be used on a daily or semi-daily basis to help obtain and maintain a healthy mind-body balance.  An additional Fast-Aid procedure is also included which has been shown to dramatically reduce healing time of traumas, both minor and major and both acute and chronic.  Fortunately, the BodyChemistry technique was included and we are finding that our graduate's immune systems become much stronger.

I was so excited about this information being accessible to all, that in May, 2008, I became certified as a BodyTalk Access Trainer.

From an email recently sent by one of my Access graduates:

"Maureen, I won't be able to make the review, but have been consistent with body talk access and am so grateful to have it. I do cortices, switching, hydration, body chemistry and the technique you showed me for headache nearly every day. I feel then that when I do have a body crisis to respond to, my body is "well-geared" to respond.

I actually hurt my foot yesterday, jamming it between the pinky and next toe. I did fast aid on it and was amazed at the healing. I iced and elevated it, too. Today I have been mobile and even able to do yoga. Thanks, Maureen I am thankful everyday for body talk access."

For more information on BodyTalk Access, please go to:  www.bodytalksystem.com and click on BodyTalk Access.  Be sure to check the menu on the left of this page, especially the heading: 'Access Wellness Routine' which describes in more detail the techniques taught in this class.
Please contact me if you are interested in organizing a BodyTalk Access seminar in your community.
Learn the BodyTalk Cortices technique: